ORDER YOUR CANS OF HOPPED BY ZIGGY NOW!
THE STORY
A bit before New Barons first became an idea, there were a couple of guys who coached a local high school swim team together. Both were working on personal projects that were starting to gain some legs. The head coach was a budding bassist practicing unique music with his friends in the efforts of starting a rock band. The assistant, was a self-taught homebrewer, who was seriously considering going pro.
As each project slowly gained some momentum, the two encouraged each other to keep going. "When do I get to go to a show?", said one. "When do I get to drink this beer," said the other. These subtle jabs slowly but surely evolved into shows, happy hours and many many beers together.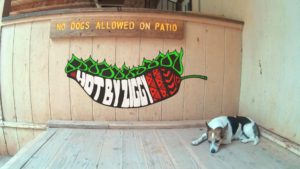 Hot By Ziggy has always been a major inspiration at New Barons. Before our beer even began to hit the market, they were already recording music, doing live shows all over the city and had even performed at Summerfest. Their music is one-of-a-kind, featuring slick reggae beats, behind colorful melodies and high energy lyrics. They call it "Fresh Coast Surf Rock" and are a product of the lower east side where they have become a frequent act at the Up and Under on Brady Street. But their list of gigs now includes events like the Urban Island Beach Party, Brady Street Fest, Center Street Daze and shows at places like the Cactus Club, The Pabst Taproom, and the Back Room at Colectivo. To date, they have released 5 records, each showing their successful progression as a growing local act. All of the members are more or less self-taught who have steadily honed in their skills together.
It occurred to the New Barons founders early on to start a one of a kind brewery by learning along the way and staying committed. For this reason, Hot By Ziggy was the perfect muse on the journey to today, and it's why "Hopped By Ziggy" is the first beer with a story behind the brand.
---
THE OWNERS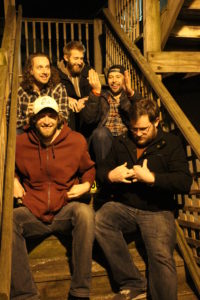 Shortly after New Barons incorporated, all the bandmates became enthusiastic members. They have been seen volunteering at our events, giving us shout outs on stage and promoting our brand on social media. They know what it takes to tell your own story and keep at something… which has been a good example for all of us. Each of them is a great ambassador to New Barons and the creative scene in Milwaukee in general.
Andy Klain, who is featured on the drums, is a smiley optimist that anchors the band with his steadfast rhythm. Most recently on their EP "Lemon Aid," he showcased his vocals on a few tracks, something Andy has worked on and it shows. Don't discount his ability on the guitar either, an example of the depth of talent this band carries in their music.
Phil Davies is the towering bassist whose hair bobs with the Sublime-esque beat that he bangs out on the strings. When he's not busy holding the band's unique sound together in the rhythm section, he's making his mark intro-ing songs like "Just One More," "Gula Gula" and "Riki Pete." Unlike most bassists, this makes him hard to miss and a rock for the music.
David Wage fills in important musical elements of the band with both his skills on the saxophone and the keyboard. His work on the keys has helped the band produce a few ballads that have become staples on their records, like "Lemon Aid Stand," "I Don't Wanna Wait" and "Factory Man."
Greg Zupek is the cool guitarist that you want to hang out with after a show. But his talent doesn't end with good looks and sweet licks on the guitar, as he's known to switch roles with Andy on the drums and provide back up lyrics as well. But Greg's work on the guitar, like Phil, is also essential to Hot By Ziggy's unique reggae-rock flavor. He can quickly move the rhythm from an emotional shuffle to a ska like pulse and vice versa, something that has come to be a hallmark sound for the band.
Eric Johnson is your lead signer and guitarist, who has a penchant for breathing exciting energy into the vocals and the band itself. An idealist, his message to "Make Your Own" and see things "Through To the End" has helped shape an endurance that the band wears when they perform. To say he is the spiritual leader of Hot By Ziggy would be an understatement, as Eric is as creative as he is talented, and it shows in his work and in the band's progression.
---
THE BEER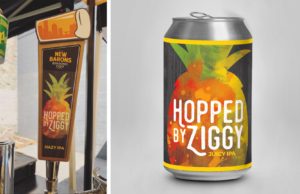 The culture of an HBZ show lends itself to an IPA of the modern beer scene. A dank waft of smoke is definitely in the air, the music reminds you of somewhere with a warmer climate and the crowd gets pretty colorful as the show goes on. So a beer that is dank and tropical, that packs a decent punch, was necessary and appropriate for the inspiration behind this beer.
Hopped By Ziggy is a Juicy IPA with a grassy nose and flavors of pineapple and coconut. Being decently hopped on the front end, the beer is not too sweet and even has a small bite that dissipates quickly down the glass. Finishing with a subtle silky body, the beer goes down easy, making it quite drinkable at 7% ABV. Cheers!
Order NOW!