Visit our Facebook page for the most current event info and announcements!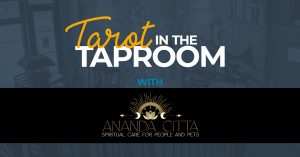 TAROT IN THE TAPROOM
Sunday, April 11  |  12pm-6pm
Join us on Sunday, April 11th for Tarot in the Taproom! Member-Owner Michelle Boening with Ananda Citta Spiritual Care will be in the taproom from 12-6 for private tarot card reading sessions. Readings are $20 for a 15-minute session. During your Intuitive Tarot Reading, you will receive a 9 card spread detailing past, present, and future, an obstacle to watch out for, and what will help you overcome that obstacle.
No appointment necessary. Just come in, grab a beer and sign up for a reading!
ABOUT ANADA CITTA: Have you ever felt lost; like you just don't know what your life's path or purpose is? Are worries, pain, fear, and uncertainty holding you back? Let us help you open yourself to hearing and understanding the messages the Universe holds for you. Reiki uses the power of energy to address physical, emotional, and mental pain. Intuitive (Tarot) readings can help you identify key steps along your journey so you can move forward with more peace and understanding for yourself and others. Animal communication can help you deepen the connection you have with your pets and empower you to give them the best life possible. Together we can cultivate a truly blissful mind.
HOLD MY BEER: THE GAME
2020 was a difficult year for small businesses. We know that visiting the taproom is still not an option for some. In lieu of a visit now, we have internally developed and designed a game as a way to support us remotely and virtually. As thanks, we'll "hold your beer" for the better days ahead by giving you a $1 off your first visit back to the taproom. Simply show the bartender that you have downloaded the game and we'll extend the discount on your first pint. Also, if you beat the game, you will be eligible for our happy hour contest to win free beer!
Click HERE for more details & to download!
STEIN & DINE 2021
Saturday, April 17  |  1pm-6pm  |  Wisconsin Expo Center at State Fair Park
Join us and enjoy unlimited samples from the state's finest breweries, local restaurants, distilleries and wineries with live entertainment (TBA). Stein & Dine is truly a sampling affair for all beer buffs. In 2019, we welcomed over 60 breweries, wineries and cideries to sample their best products. Sausage makers and local restaurants will also be on hand to serve up tasty treats.
All guests receive a complimentary Stein & Dine sampling glass to use for the day and take home!
Tickets are on sale NOW!
https://www.shepherdtickets.com/events/104831436/stein-dine-2020
Early Bird - General Admission -- $40
Early Bird - VIP -- $70
General admission will start at 2 p.m. and end at 6 p.m. when the event concludes
https://www.steinanddinemke.com/