Visit our Facebook page for the most current event info and announcements!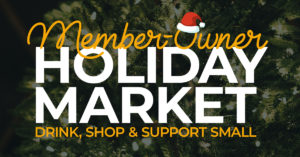 MEMBER-OWNER HOLIDAY MARKET
December 2020
We have a ton of member-owners that have their own small businesses within the co-op. We are so excited to announce our Member-Owner Holiday Market!
All month long, we will be featuring and selling our member-owners products and services inside the taproom. From hot sauce and apparel to professional services and handmade soap. Our member-owners truly do it all. Come to the taproom, have a beer, and shop small for your friends and family! All items and services are available to purchase in the taproom.
VENDORS INCLUDE:
Cierra Burmeister, Shorewest Realtor
Enlightened Brewing
Eric Gutbrod & Bier Wanderlust
Faklandia Brewing
Higgins Hot Sauce
Hoffman York
'Hot by Klain' Hot Sauce
Hot by Ziggy
Melt Chocolates
MKE Black
Milwaukee Jerky
Milwaukee Plumbing
Midy Disc Golf
Rainbow Suds Handmade Soap
SideKick Dog Training
Spike Brewing
Tonic Tavern
STEIN & DINE 2021
Saturday, April 17  |  1pm-6pm  |  Wisconsin Expo Center at State Fair Park
Join us and enjoy unlimited samples from the state's finest breweries, local restaurants, distilleries and wineries with live entertainment (TBA). Stein & Dine is truly a sampling affair for all beer buffs. In 2019, we welcomed over 60 breweries, wineries and cideries to sample their best products. Sausage makers and local restaurants will also be on hand to serve up tasty treats.
All guests receive a complimentary Stein & Dine sampling glass to use for the day and take home!
Tickets are on sale NOW!
https://www.shepherdtickets.com/events/104831436/stein-dine-2020
Early Bird - General Admission -- $40
Early Bird - VIP -- $70
General admission will start at 2 p.m. and end at 6 p.m. when the event concludes
https://www.steinanddinemke.com/